This short programme is intended to acquaint learners with the necessary skills that are needed to mix and make demos, and to play to a live crowd. Whether using a digital or vinyl track, a DJ will be able to set the mood, amp up the excitement, and get a crowd rocking! Learners will learn all the technical know-how required as well as advice on how to create their own DJ'ing style and how to make DJ'ing work for them. With tips on equipment essentials, such as turntables, slipmats and needles, headphones, and amplifiers, as well as buying records, CDs, and MP3s, this programme will take learners through the basics of mixing, song structure, building a foolproof set, creating a great demo, and what to do when they finally face a live audience.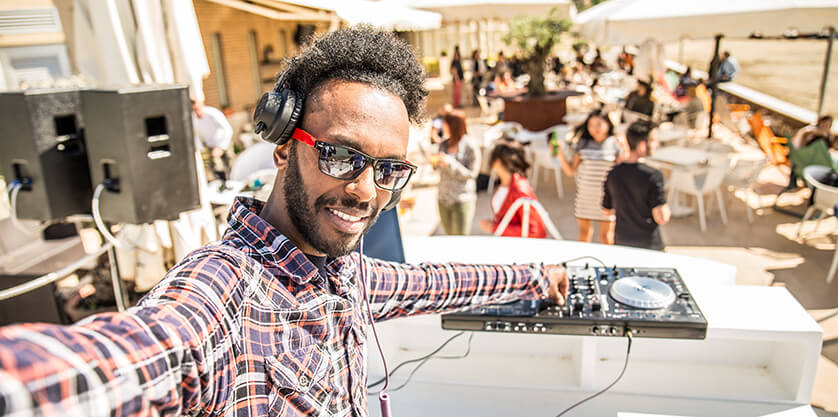 How much will
it cost?


Select a campus
*Not all programmes are offered at all campuses.
Diploma in Human Resource Management
Duration
The programme duration is 60 hours and tuition is face-to-face. Each Damelin campus has a different tuition schedule. Programmes are offered during the week, in the evenings, or on Saturdays.
Career fields
Learners could pursue a career as a:
Wedding DJ
Club DJ
Music Festival DJ
Certification
Upon successful completion of this programme, the learner will receive the Damelin Short Programme Certificate in Digital DJ'ing.
Admission Requirements
Basic computer and sound equipment skills
A learner must have a keen interest in the world of DJ'ing
Grade 10
Additional Costs
Learners will be expected to pay for additional programme costs such as consumable items (e.g. CDs). Additional assessment fees may be applicable. Refer to Academic Fee Schedule.
Read More
Programme Outline
Part 1: Getting Started with DJing
Describes equipment needed in order to be a DJ and the best way to build a collection of tunes. Advice is given on the art of shopping at music shops and going online to research and buy tunes and equipment.
Part 2: Stocking up your DJ Toolbox
Provides information on the choice between CD or vinyl; and how to perform as a Digital DJ, using the controls on the mixer. Learners will also be taught about using, choosing, connecting and setting up their equipment for DJ use.
Part 3: The Mix
This part covers the nitty-gritty of DJ'ing - from creating transitions between tunes, starting them at the correct points, beat matching and the complicated moves demanded by the scratch artist.
Part 4: Getting Noticed and Playing Live
This module provides lots of information on how to sell yourself, how to create a great sounding (and looking) demo and what to do when you get work.
Part 5: The Part of Tens
This section squeezes in the last tips, tricks and common sense reminders that ease the way toward learners becoming a successful professional DJ.