Certificate | Full Time
SAQA ID
48872
NQF
Level 5
Credits
131
The National Certificate: Information Technology: Systems Development is designed to provide learners with an undergraduate entry into the field of Information Communication and Computer Sciences, specialising in the Software Development. Learners will have a solid understanding of computer industry concepts and the ability to work in areas of Software Development with intermediate technical complexity. Learners will learn how to create software solutions using popular software development tools, technologies, platforms, internet architectures and databases.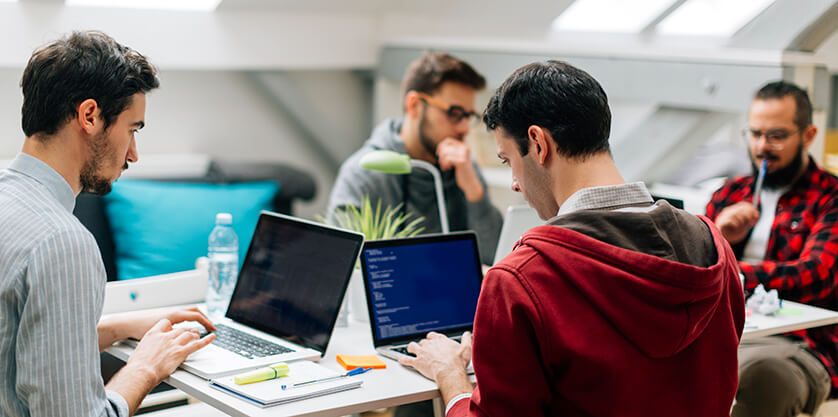 How much will
it cost?


Select a campus
*Not all programmes are offered at all campuses.
Diploma in Human Resource Management
Duration
1-year full time study according to certificate requirements.
Career fields
With this qualification, learners could pursue a career as a:
Software Developer/Internet and Web Designer
Computer Programmer
Database Administrator
Software Project Manager
Certification
Upon successful completion of the whole programme, i.e. competence achieved in the summative assessments, the successful completion of the WIL component, and provided the learner's PoE is found competent, the learner will receive a Damelin Results Letter outlining the unit standards covered.
Damelin will apply to MICT SETA on the learner's behalf for the National Certificate: Information Technology: Systems Development, SAQA ID 48872, NQF level 5, 131 credits to be awarded.
Upon successful completion of the optional external examinations modules, the learner will receive MCDBA, MS.NET, PMI, SCJA and SCJP Certification at the learners own cost.
Admission Requirements
Foundational skills in English and Mathematics at NQF level 4/Grade 12 or equivalent
Ability to use a personal computer competently
Additional Costs
Learners may choose to write the optional external exams at the end of each module for international recognition which will be at an additional cost payable for Microsoft, PMP, Sun Java. These exams may be written at any approved testing centre. Additional assessment fees may be applicable. Refer to Academic Fee Schedule.
Read More
Programme Outline
A) DATABASE DESIGN & IMPLEMENTATION
The database environment
Fundamentals of data modelling
Relational model
Normalisation of database tables
Advanced data modelling
Setting up and using relational databases
Maintaining and querying databases
SQL language
Practical work using Microsoft Access
Creating a user interface for a database
Programme control structures (decision and repetition)
Arrays
Menus
B) INTRODUCTION TO VISUAL BASIC .NET PROGRAMMING
The design, implementation and testing of Visual Basic.NET programmes
Variables, constants, calculations
Visual Basic.NET controls (e.g. text boxes, buttons, list boxes, radio buttons)
Event handlers and methods
Object-oriented programming concepts
Procedures and functions
File manipulations
Simple databases
C) C# PROGRAMMING
Control constructs
Functions
Properties
Lists
Dynamic memory allocation
Inheritance
Interfaces
Polymorphism
Object-oriented programming
D) INTERNET AND WEB DESIGN
The Internet and HTML
CSS, JavaScript, Graphics and Web Design
E) INTRODUCTION TO JAVA PROGRAMMING
By using this training kit, you will learn how to do the following:
Structured programming in Java:

Basic input and output
Control structures
Arrays and strings

Object oriented programming:

Methods, classes and objects
Overloading
Inheritance and Polymorphism

Applications in Java:

Stand-alone applications (programmes)
Applets for the Internet
Graphical User Interfaces
F) INFORMATION TECHNOLOGY IN E-COMMERCE
Introduction to electronic commerce
The Internet and the Web: Infrastructure for electronic commerce
Web-based tools for electronic commerce
Electronic commerce Software
Security threats to electronic commerce
Implementing security for electronic commerce
Electronic payment systems
Strategies for marketing, sales and promotion
Strategies for purchasing and support activities
Strategies for web auctions, virtual communities and web portals
The environment of electronic commerce: international, legal, ethical and tax issues
Business plans for implementing electronic commerce
Practical implementation of an electronic commerce site
G) APPLIED PROJECT MANAGEMENT IN AN INFORMATION TECHNOLOGY ENVIRONMENT
The context of the management of information technology projects
The information technology project management profession
Information technology project integration management
Software project scope management, requirements elicitation, the work breakdown structure and change control.
Software project time management
Software project cost management
Software project risk management
Case studies on software project management
WORKPLACE LEARNING
This programme includes a compulsory Workplace Learning component. Workplace Learning provides important opportunities for professional and personal growth. It addresses specific competencies identified for the acquisition of the qualification, which relates to the development of skills that will make the learner employable and will assist in developing his/her personal skills.